Out of the Office
Hey shibuddies! If you order anything between November 20th - 30th your order will ship after December 1st. We will be away from our main site for much need family time. We appreciate your understanding and we apologize for any inconvenience this may cause. We thank you all for the support of our Native small bussines. Ahe'hee'!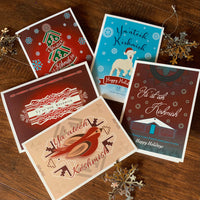 Holiday cards
A set of 5 Ya'atééh Késhmish folded 4x6 cards. Choose from the assorted blue, red or brown collection. 
Click here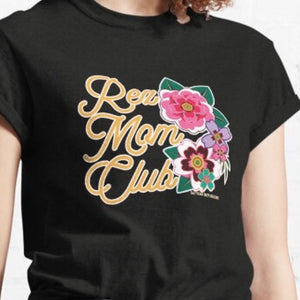 Redbubble items
You don't see an item? Chances are you will find it on my Redbubble site. From shirts and tote bags to coffee mugs and masks! Redbubble offers this service for artist to make their designs wearable/useable pieces for all to enjoy!
Redbubble Link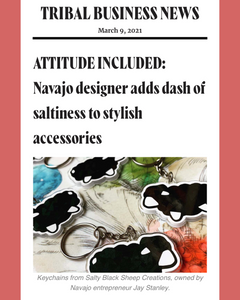 Featured article
SaltyBSC made the Tribal Business New! Read the article here.
Click here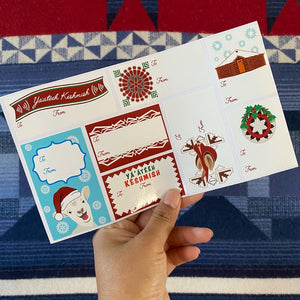 Holiday gift labels!
Click here
Salty Black Sheep Creations
SaltyBSC is a Diné owned business based in Oregon. I create art to share and wear: from apparel to accessories & stickers.  My designs are made to make you feel Indigenous AF in the modern world. 
Yá'át'ééh shí éí Jay Stanley yíníshyé'. I am from Kayenta, Arizona and currently reside in Oregon with my family. I am a stay at home mom turned small business owner. I love designing and creating items that celebrate our culture and identity as Indigenous people. 
Ahéhee' for supporting my small business, as it supports my family, fuels my creativity and empowers my spirit. I design and assemble all my pieces, yes I am a one woman show! Feel free to look around and share your favorites with friends and family! 


Below are my current earring collections. All pieces are inspired by Diné culture and the strong women in my family. Enjoy!